ラストで
"THE VOICE"
使っていただいてました!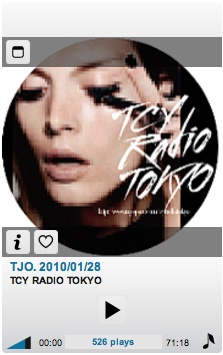 http://www.myspace.com/tcyradiotokyo
今回も心地良いMIXぐあいです。
そしてこのTracklisting↓↓↓
M01. Zombie Nation - Supercake 53 (Franz & Shape Remix)
M02. Galbitch - Luftwaffe
M03. Wolfgang Gartner & Francis Preve vs. La Roux - Yin For The Kill (Dave Spoon Bootleg)
M04. DJ Digital Dave - Jay-Z's Flashback feat. Rihanna & Kanye West
M05. Wearhouse (DJ Kue & Meleebeats) - No Funk
M06. Pitto - Feelin (District One's Feelin Techno Remix)
M07. The Sunburst Band - I'll Be There 4 U (Kaje Trackheadz Mix)
M08. Cinnamon Chasers - Luv Deluxe (Scuba Remix)
M09. Cinnamon Chasers - Luv Deluxe
-VIVA-STERDAM (Varium) Guest DJ Mix-
01.Lollipop (VIVA-STERDAM Remix) / Dada Feat.Sandy Rivera & Trix
02.Elephant 1234 (Reset! Remix) / The Count & Sinden
03.We Go Down (GUNHEAD Remix) / BECCI + KAZ NISHIMURA
04.Yell Dance / VIVA-STERDAM
05.Jackin My Fresh Feat. Lex One (Original Mix) / Black Noise
06.Get Low / Detboi
07.Make Her Say (Afrojack Remix) / Kid Cudi feat.Kanye West & Common
08.Hit The Club (Sidney Samson Remix) / Will Bailey
09.Pon De Floor (Chewy Chocolate Cookies Remix) / Major Lazer
10.Riverside (Elektrixx Remix) / Sidney Samson
11.Hey (Foamo Remix) / Diplo & Laidback Luke
12.Bassline Time (Eli Smith Remix) / Ac Slater
13.Hooligans (A1 Bassline Remix) / Don Diablo & Example
14.Spread Raver (SoccerBoy Remix) / Kan Takahiko
15.Youth, Speed, Trouble, Cigarettes (Don Diablo Remix) / Cassius
16.Sunday Morning (Rework) / VIVA-STERDAM
M10. Example - Watch The Sun Come Up (Moam Remix)
M11. Nic Chagall feat. Jonathan Mendelsohn - This Moment (Prog Mix)
M12. Alyn - The Voice
是非聴いてみてください(^o^)/*・゜゜・*:.。..。.